If you want to get a lot stronger in Terraria, you should use permanent buffs.
When playing Terraria, you should always be looking for ways to improve your stats and get ahead in the game. Permanent buffs are a great way to do this, and since the Labor of Love update, there are a lot of them for those who are willing to work hard to get them.
Permanent buffs can make a big difference, whether they help you get more health, mana, defense, or even sell more items. From Life Fruits to Arcane Crystals, these upgrades will give you the edge you need to beat the game's challenges and win.
Life Crystals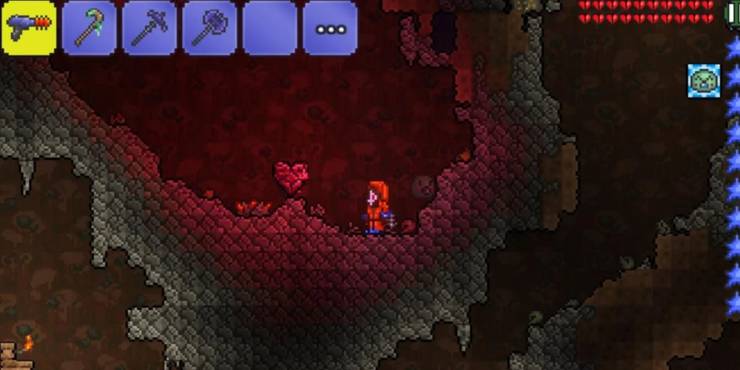 Life Crystals can permanently give you an extra 20 points of health, up to a maximum of 400. They are usually found underground and have the shape of hearts. You can mine for them. Life Crystals can be found underground, but you can also fish for them in Titanium or Gold crates.
Life Crystals are a key part of getting to the endgame because they let you take more hits from enemies and bosses. They are especially important if you like melee builds, which often involve fighting up close and can take a lot of damage.
Mana Crystal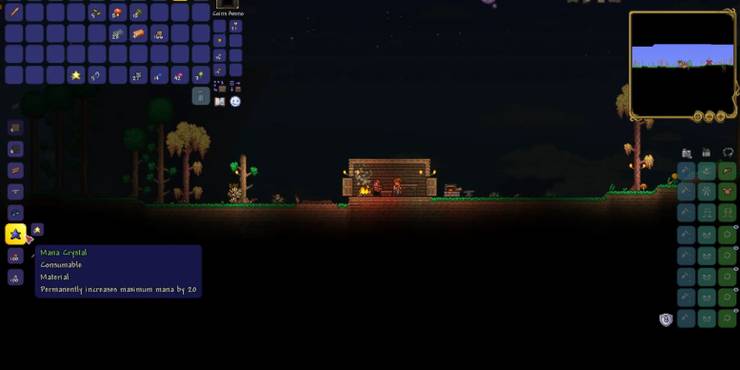 Mana Crystals are items that always add 20 points to a player's maximum mana, up to a maximum of 200 points. You can make them by putting together five Fallen Stars at a workbench. During the night, you can find Fallen Stars all over the map.
Mana Crystals are important for magic-based builds because they let you cast more spells before your mana runs out. Every time you cast a spell, mana is used up. If your maximum mana pool is higher, you can cast more spells before you have to wait for your mana to refill. Some items, like the Band of Star Power or the Arcane Crystal, can only be made with Mana Crystals. This makes them a valuable resource.
Life Fruits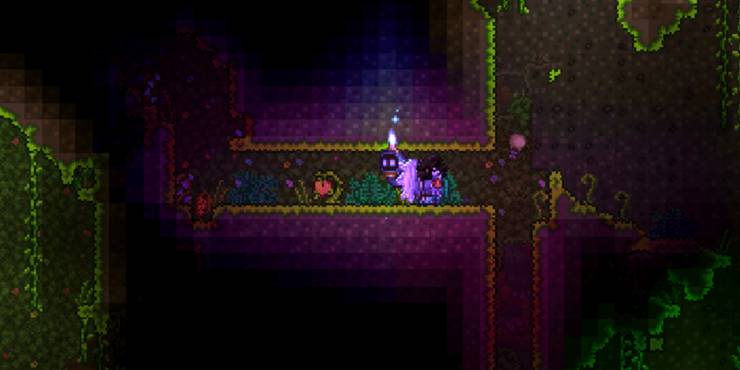 Life Fruits are consumable items that permanently add five health points to your maximum health, up to a maximum of 500. They are basically the Life Crystals of Hardmode. They grow in the underground jungle biome, and their bright yellow and green colors make them easy to spot.
If you want to stay alive longer, especially when fighting the game's tougher bosses and enemies, Life Fruits are an important tool. A bigger health pool lets you take more damage and can make all the difference in tough battles.
Peddler's Satchel
The Peddler's Satchel is an item in Terraria that can only be used once per world. It increases the number of items the Traveling Merchant sells permanently. The Peddler's Satchel lets the Traveling Merchant sell one more item each day he visits.
To get the Peddler's Satchel, throw a Peddler's Hat into a pool of Shimmering Liquid. The only way to get the Peddler's Hat is to kill the Traveling Merchant. If you want to buy rare or hard-to-find items from the Traveling Merchant, the Peddler's Satchel is very helpful.
Torch God's Favor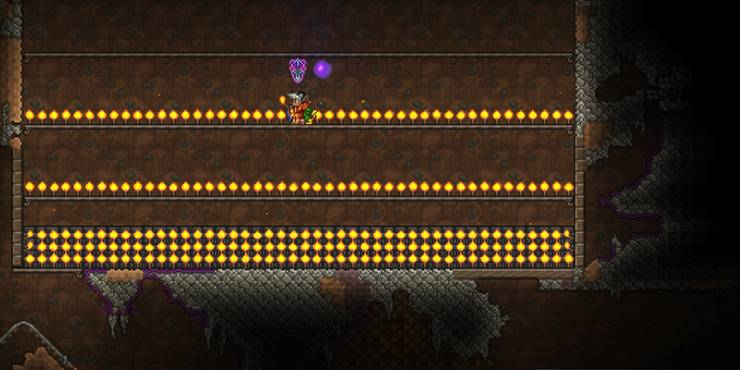 In Terraria, you can also get a permanent buff called Torch God's Favor, which is very sought after. To get this buff, you have to make it through The Torch God event, which involves dodging fireballs shot from the torches you set up to start the event.
When you use Torch God's Favor, it gives you the ability to automatically change any regular Torches or Campfires you have in your hand into the type of Torch or Campfire that works in the current biome. This makes you luckier in most parts of the game, like making it more likely that rare items will drop and that you will do critical damage. The buff also changes the way your torch looks. Depending on the biome you're in, it will have a different design.
Vital Crystal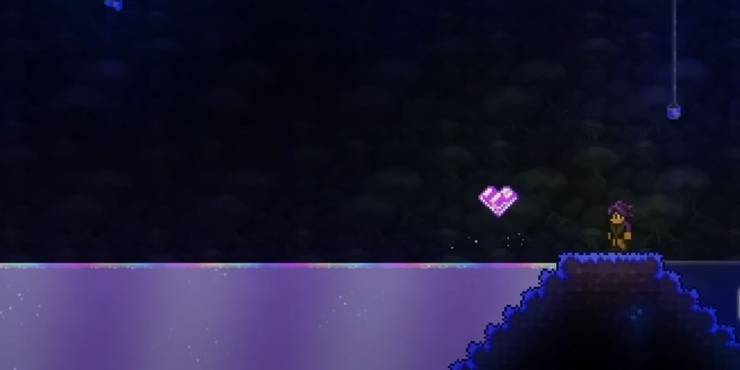 You can find the Vital Crystal in Terraria. It is a very valuable permanent buff that can help you in many ways. To get the Vital Crystal, you must throw a Life Crystal into a Shimmering Liquid pool, which is a rare and hard-to-find resource in the Aether biome.
When you use the Vital Crystal, your health will heal faster for the rest of your life. It's important to note that the Vital Crystal doesn't directly speed up health regeneration. Instead, it speeds up the ramping up of regeneration by 20%. It can be very helpful in battle, especially when fighting a boss, because it lets you stay alive and heal quickly if your health is low.
Aegis Fruit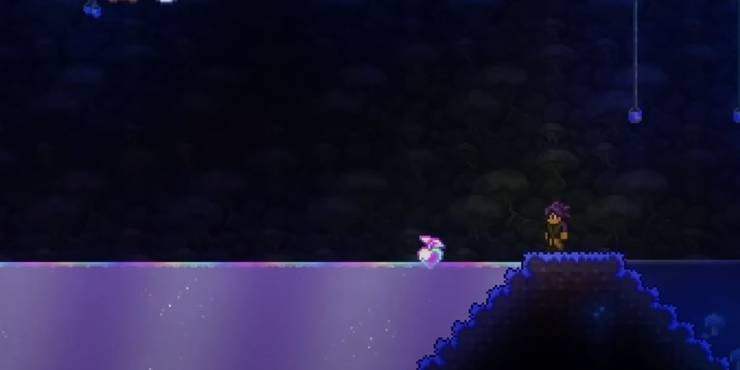 In Terraria, the Aegis Fruit is a consumable item that gives you a permanent buff that makes your defense four points higher. In this game, defense is very important because it makes you take less damage each time you get hit.
If you throw a Life Fruit into a pool of Shimmering Liquid, you can get an Aegis Fruit. When you get the Aegis Fruit, you can eat it to get the permanent defense boost. It's important to know that each character can only use the Aegis Fruit once. This means that it's best to use the Aegis Fruit on a character you plan to use for a long time, since it can help your game play in a big way and for a long time.
Arcane Crystal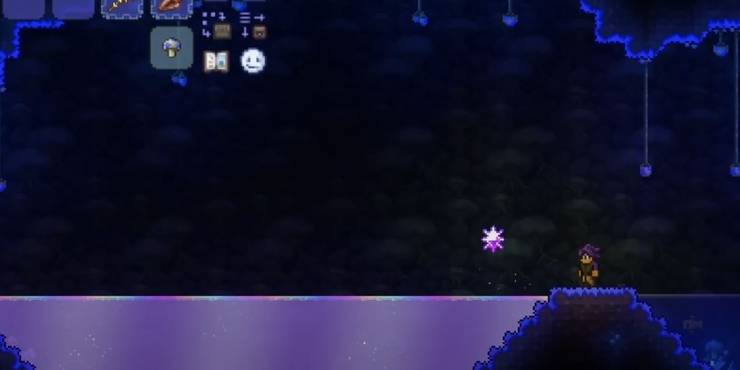 The Arcane Crystal is a rare and powerful consumable item for magic fans in Terraria. It gives you a permanent boost to your mana regeneration and can only be used once. This can be very helpful if you use magic-based weapons and spells. Because it lets you cast more often and more effectively while fighting.
You have to throw a Mana Crystal into a pool of Shimmering Liquid in order to get the Arcane Crystal. The Arcane Crystal can only be used once per character, just like the Aegis Fruit. Use the Arcane Crystal on a character who relies heavily on a Magic Build to make your damage much worse.
Ambrosia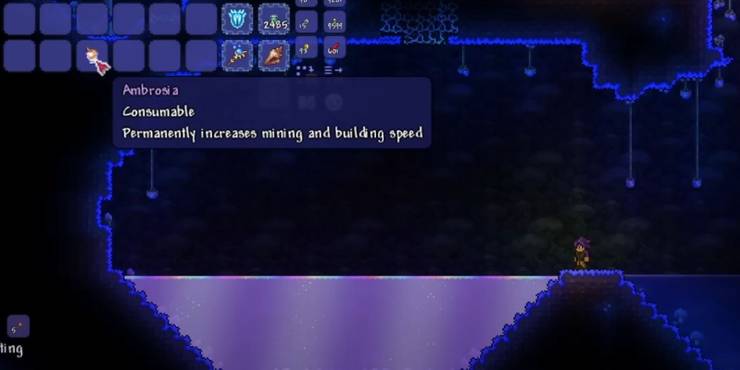 Ambrosia is a must-have item in Terraria for anyone who likes to build. It gives you a permanent 5% speed boost when you mine, place tiles, or build walls. This is a highly sought-after item in Slope Game because it can help you mine resources faster or build structures more quickly.
To get Ambrosia, you must throw any kind of fruit. That falls from trees that shake into a pool of Shimmering Liquid. Once you have Ambrosia, you can eat it to give yourself a permanent speed boost. Even though it may be hard to get, the benefits it offers make it well worth the trouble.
Demon Heart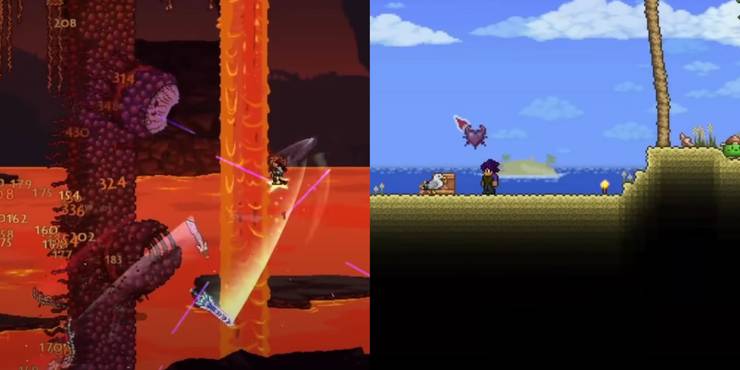 In Terraria, you can get the Demon Heart by beating the Wall of Flesh, the final boss of the world before hard mode, in Expert Mode. This is a very valuable permanent buff item. Then, you can use the Demon Heart to give yourself an extra slot for an accessory. This can make a big difference in how well you fight and explore. Since it lets you wear an extra accessory. Which can give you special bonuses and abilities.
It's important to know that the Demon Heart can only be used once per character. This means that it can only be used to open up one more accessory slot. No matter what, it's a very useful permanent buff item that gives you a needed accessory slot that helps you play Terraria in Hardmode.
As an SR SEO Executive, I am an experienced and result-driven professional with a passion for optimizing online presence. Skilled in keyword research, on-page and off-page SEO strategies, and data analysis, I strive to enhance website visibility and drive organic traffic. Committed to staying updated with the latest industry trends, I work diligently to achieve top search engine rankings and improve overall digital marketing performance. My expertise lies in developing tailored SEO campaigns to meet business objectives and deliver measurable success. With a keen eye for detail and a proactive approach, I am dedicated to elevating brands and maximizing online success.